Yahoo!!!
Ready to live it up and make lasting memories in Seoul?
Join us and 1000 others on June 3rd for our 5th Annual Summer Cruise Party, Anchored on the Han River. Plan to arrive early, as unlimited drinks will be served from 5 pm to 8 pm.
Don't miss out – secure your discounted tickets now!
It's going to be classy. It's going to be sexy. It's going to be a thing you look back on in 20 years: "remember that yacht party in Seoul?"
Get your best outfit ready, because this party is nautical with a capital naughty ????. Gentlemen, think white capris, boat shoes, and sunglasses. Ladies, think flowy, summer dresses and sun hats.
Imagine a rooftop view of the Han River with an open skyline, a DJ spinning summer vibes, and a thousand dressed-to-impress, beautiful people. Choose to explore the four stories of our luxurious anchored cruise. Expect energizing performances and lively dancing
Experience all of this at an unbeatable, wallet-friendly price. Don't hesitate – take advantage of early-bird pricing and group discounts by securing your ticket today!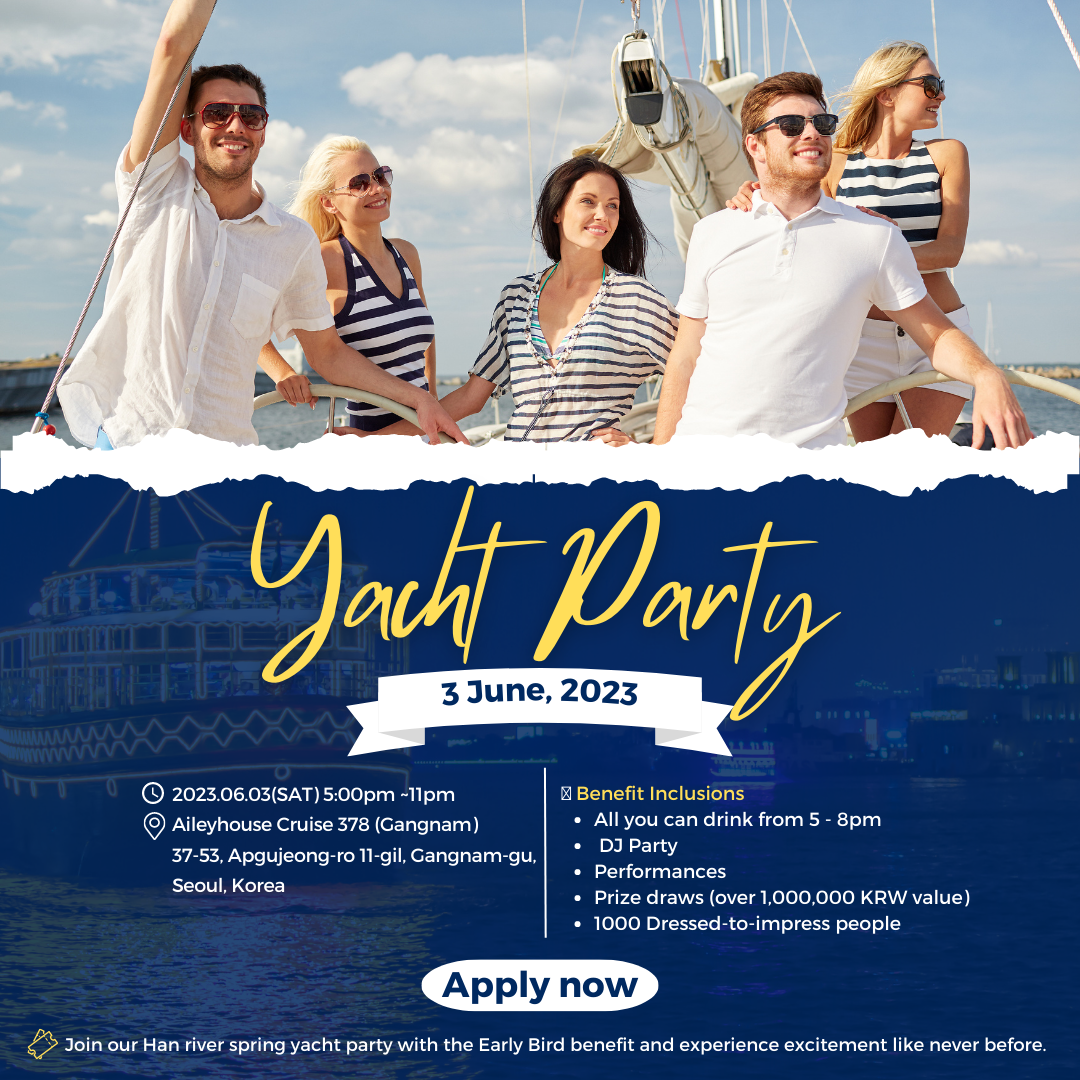 When?
June 3rd (Saturday)
5:00PM - 11:00PM
Where?
Cruise 378 (Gangnam)
Seoul, Gangnam-gu, apgujeong-dong 379
How do I get there?
Apgujeong Station exit 6, 10 minute walk
Price
Basic Entry ticket.
Early bird 1: 35,000won (May 11th, 10pm)
Early bird 2: 40,000won (May 25th, 10pm)
Early bird 3: 45,000won (June 1st, 10pm)
At the door: 50,000won (June 3rd)
Group Discounts
Examples:
3 people (35,000won —> 33,000won)
4 people (35,000won —> 32,000won)
5 people (35,000won —> 31,000won)
6 people (35,000won —> 30,000won)
Inclusions
All you can drink from 5 - 8pm
DJ Party
Performances
Prize draws (over 1,000,000 KRW value)
1000 Dressed-to-impress people
VIP tables
8 person tables
Includes 2 bottles (Absolute or Jameson), 4 chasers, 8 energy, skip the front line
pre-sale: 400,000
At the door 500,000
Performances?
Announcement coming soon
DJS?
Announcement coming soon
What should I bring?
Summer formal clothing.
DRESS TO IMPRESS
Identification
You, yourself and your friends.
Cash for drinks
Prizes?
Details coming soon
Refunds?
Individual tickets:
within 7 days before start 90% refunds
3-6 days before start, 50% refunds
2 days before start, no refunds
Portrait Agreement
There will be photographers at the event! Please note that photos will be used for promotional purposes and by purchasing ticket you agree to portrait rights.
FAQ: Have Questions? We've Got Answers! ⚓️
⚓️ When does the cruise depart?
It doesn't depart! It's an anchored cruise. You can walk on and walk off the whole night.
⚓️Parking?
There is parking lot to available at the park.
⚓️ Feeling peckish? Although food won't be served onboard, you can purchase delectable bites around the party area.
⚓️ Where's the celebration? Cruise 378, our luxurious anchored cruise ship on the Han River, will be our party haven. With a basement, 2 floors, and a rooftop, it can accommodate over 1,000 stylish guests! Enjoy performances and DJs on the first floor, a bar and VIP tables on the second floor, and a rooftop DJ and panoramic river view on the top deck.
⚓️ What's the dress code? Dress to impress in summer formal attire! Ladies, opt for elegant dresses, chic jewelry, and stylish high heels. Gents, wear polished dress shoes, classy dress pants or shorts, and fashionable collared shirts. Suits and ties are welcome too.
⚓️ Who will attend? GSM parties boast a diverse mix of 50:50 Koreans and foreigners, including professionals, teachers, travellers, and students in their 20s and 30s. We celebrate international vibes!
⚓️ Can I ride a yacht? Yacht rides are available for an additional cost. Stay tuned for more details!
⚓️ What about drinks? Unlimited drinks, featuring cocktails and beers, will be served from 6pm to 8pm.
⚓️ Is there a coatcheck? Yes, indeed! Safeguard your belongings for 5,000 won per item.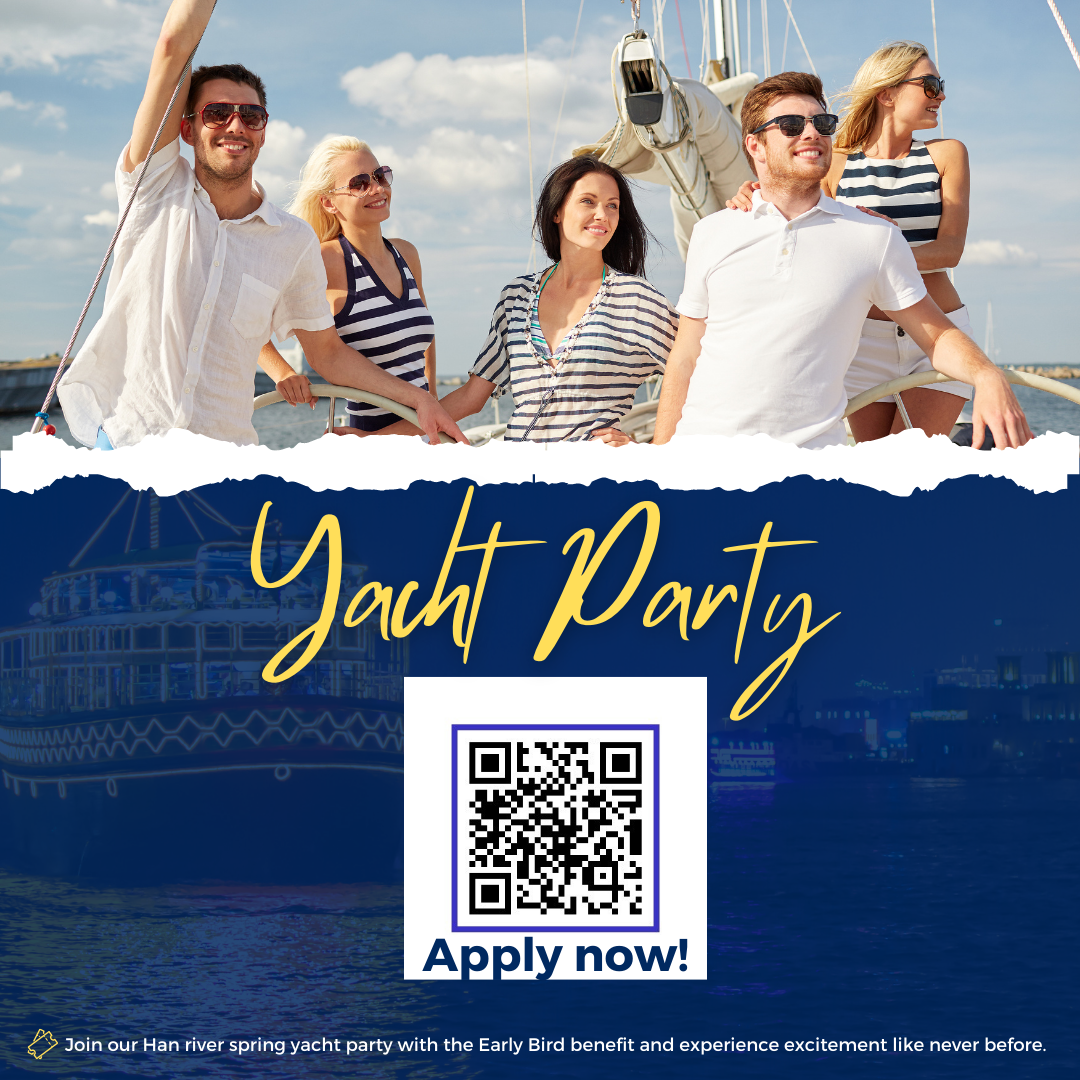 ---
To apply it here >>> https://smartstore.naver.com/globalmates/products/8495733608